TLC Marketing and Creative Services Unveils Fox Insurance's New Website
BONITA SPRINGS, Fla. (February 28, 2022) – TLC Marketing and Creative Services has the privilege of announcing the launch of a newly developed website for Ft. Myer's Fox Insurance LLC. Fox Insurance is a family-owned, independent insurance company that was established in 2014 and is helmed by Ellen Fox. The company specializes in serving Groups (companies) of five-to-twenty employees with a variety of needs, with a few examples of coverage including Group Health, 401k Plans, Workers' Compensation and more.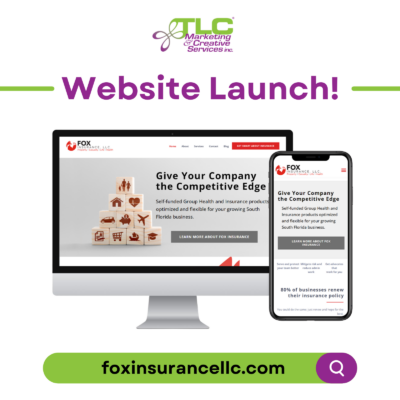 Fox Insurance's owner was ready for a refresh of her brand, and TLC is proud to display many of the new facets and features the company now has. The relationship between TLC and Fox Insurance began with owners Trish Leonard and Ellen Fox discussing what would require new development. They started with drafting up a fresh take on Fox Insurance's signature logo, creating a modernized, clean redesign of their signature fox. Business cards were next in the pipeline, prominently displaying the new, sleek logo and emphasizing the quality that the insurance company is known for. 
Once both projects were complete, TLC's web designer and copywriter Justin Decelle – with support from web director Jasmine Decelle – led the creation of Fox Insurance's five-page website. The website highlights and explains the many services offered, and also forms a space where TLC can perform monthly blogging for Fox Insurance using highly-curated and researched materials on the insurance industry to help drive SEO performance. 
TLC continues to find success in the expansion of its team and website development service, and they are excited to continue working with Ellen and Fox Insurance for the foreseeable future. For more information on Fox Insurance, please visit www.foxinsurancellc.com.